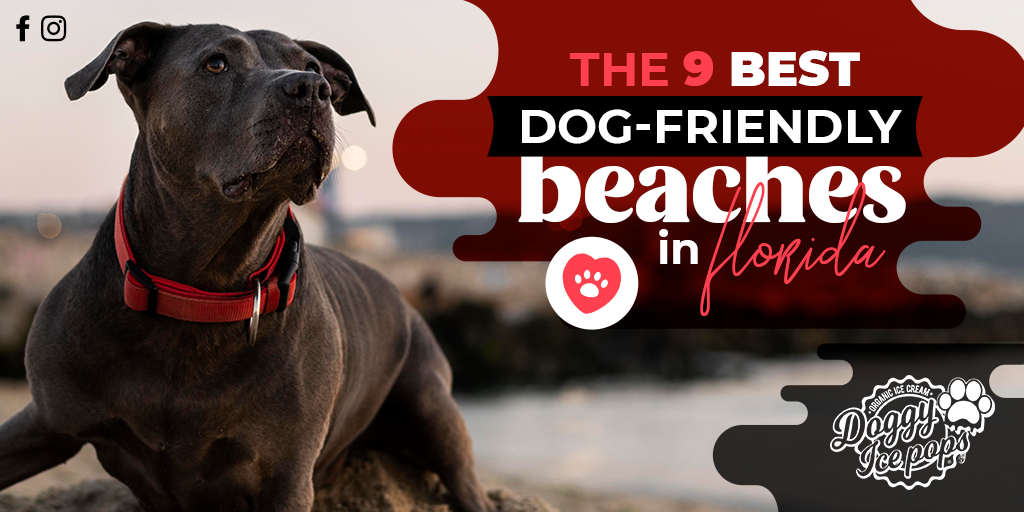 Beach chair and umbrella? Check. Mineral sunscreen? Check. Your super-cute pup? Double-check! Though Florida isn't short on gorgeous beaches, not all of them allow your furry friend to have some fun in the sun with you. *Sigh* Don't worry: We found nine beaches across the state that welcome humans and pups alike. Here are the best dog-friendly beaches in Florida.
1. Jupiter Beach
Get this: Nearly every beach in Jupiter is open to pups, thanks to a 1989 policy adopted by the Jupiter Town Council to allow dogs on the area's beaches. There are a few rules, though. Dogs must be well behaved and wearing proper tags and licenses, and owners are required to pick up after them. Hey, nothing we can't handle.
2. Fort De Soto Park
Made up of five interconnected islands located south of St. Petersburg, which cover more than 1,100 acres of land, Fort De Soto Park features a designated dog park on the beach, plus two fenced-in areas near the sand for small and large dogs (water stations included!).
3. Davis Islands Dog Beach
Davis Islands Dog Beach, located right near Peter O Knight Airport, is one of the last-remaining pup-friendly beaches in Tampa. Expect a fenced dog park, where Fido's welcome to play off-leash, plus a designated area on the sand.
4. Bonita Dog Beach
Open from dawn to dusk, dogs are encouraged to roam free at Bonita Dog Beach in Bonita Springs. There are even doggie shower stations, perfect to wash the sand off Fido before heading home.
5. Key West Dog Beach
Venture down to Key West and find a secluded stretch of sand reserved just for dogs and their owners. Shaded by palms, unleashed pups can play in the water and sand so long as they're supervised.
6. Bark Beach
Dogs and humans can soak up the sun at Bark Beach at Spanish River Park in Boca Raton. Even better, pups can remain off leash the entire time.
7. Honeymoon Island State Park Dog Beach
Just outside of Tampa, Honeymoon Island State Park features more than four miles of beach as well as three miles of trails. There are pet-designated beach and trail areas too, which are located on the southern tip of the park. Make note that dogs must always stay on a hand-held leash.
8. Smyrna Dunes Park
Spend the day with your furry friend at Smyrna Dunes Park in New Smyrna Beach, where pets are allowed on the inlet shore beach area—though they must be leashed at all times.
9. Haulover Beach
One block north of Sunny Isles, set up shop with a chair, a cooler and a stylish umbrella at Haulover Beach Park with your pup. Dogs are welcome to hang out in the sun, sand and water, so long as they're supervised by their owner.